The use of security cables is becoming increasingly popular in companies and public institutions. Very useful to secure computer parks and other devices against theft attempts, they prove to be effective and inexpensive solutions.
A wide variety of products are available on the market: keyed, coded, serialized, Nano®, Noble Wedge® or standard. So, which one should you choose?
Throughout this article, we will guide you in the choice of THE solution corresponding to your needs. You will know what you need and why you need this cable.
I. WHAT IS A SECURITY CABLE?
A security cable comes in the form of a thick cord, very resistant in braided steel and allows to secure your devices against theft.
To use it, you just have to slide the loop of the cable end around a thick, fixed and heavy anchor point (e.g., chair leg) and insert the tip of the cable in the security slot of your device (if the latter is not equipped with one, self-adhesive slots exist).
STEP 1 - Fixation to an anchor point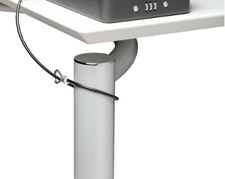 STEP 2 - Fixation to the device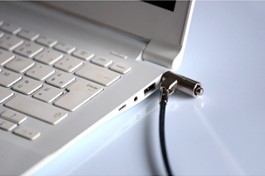 II. CHOOSING THE PROPER EQUIPMENT
The three most common locking systems are: standard (T-lock), Nano (N-lock) and Noble Wedge® (W-lock).
STANDARD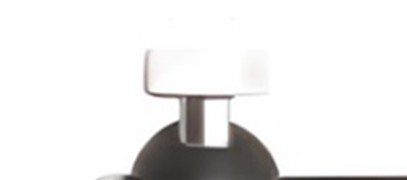 The standard slot is the most common, it is found on most computer devices, TVs and overhead projectors.
NANO®
The Nano® slot, which is smaller, was developed to meet the size constraints of the new ultrabooks. The standards, thicker than the cases, were raising the devices. It is found mainly on HP®, Lenovo® and Samsung® devices.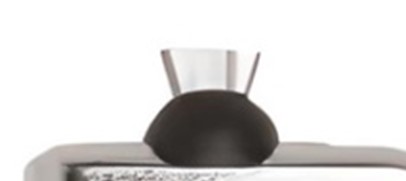 NOBLE WEDGE®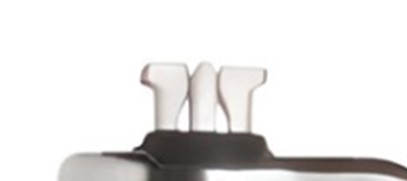 Finally, the Noble Wedge® slot mainly found on Dell® brand devices, has also been developed to fit the thinnest devices.
There are several ways to identify which system is compatible with your device:
1. Refer to the symbol next to the security slot on your device
Standard slot:

Nano® slot:

Noble Wedge® slot:
2. Measure the size of the slot on your computer

| | |
| --- | --- |
| Slot type | Dimensions |
| Standard | |
| Nano® | |
| Noble Wedge® | |
3. Selon la marque de votre ordinateur
- Si vous possédez un ordinateur Dell®, il y a de fortes chances pour que l'encoche de sécurité en question soit Noble Wedge®.
- S'il s'agit d'un HP®, Lenovo® ou Samsung®, alors l'encoche sera probablement un Nano®.
- Enfin, pour les ordinateurs d'autres marques et autres appareils types TV ou rétroprojecteur, il s'agira sans doute d'une encoche standard.
3. Based on the brand of your computer
- If you have a Dell® computer, there is a good chance that the security slot in question is Noble Wedge®.
- If it's an HP®, Lenovo® or Samsung®, then the slot will probably be a Nano.
- Finally, for computers of other brands and other devices such as TVs or overhead projectors, it will probably be a standard slot.
III. WHICH LOCKING MODE?
Keyed lock
The standard keyed lock allows you to lock your cable with a unique key.
Master keyed lock
Unlike a single standard keyed lock, master keyed cables are unique and different but one key, the master key, can be used to open all the locks in a batch. The master key is intended for the IT administrator, enabling him or her to easily maintain the equipment. The larger the computer fleet, the more this system is favored by the IT departments.
Coded lock
The coded lock makes it quick and easy to lock your cable. You can choose the unlocking code yourself.
Serialized coded lock
The codes are predefined, permanent, and associated with the serial number of each cable. The administrator can then refer to his database to find the code of a particular cable.
IV. CABLE DENSITY
The density is an important factor in the choice of a cable because it determines its resistance and has a direct impact on the degree of security of the device connected to it.
There are several cable densities on the market, here are some examples: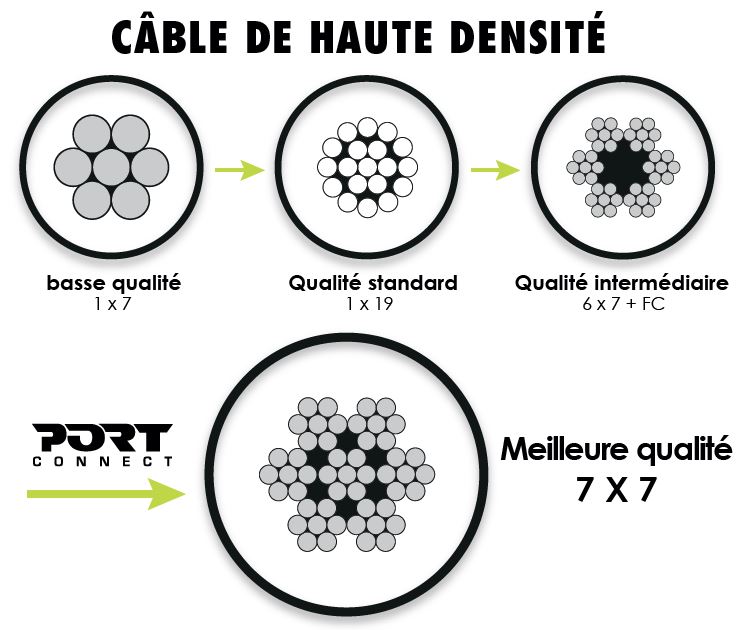 V. STANDARD SELF-ADHESIVE SLOT
On thin electronic devices such as smartphones or tablets, it is rarer for manufacturers to implement a security notch. To overcome this problem, there are accessories allowing to stick a security slot on small devices and thus make them compatible with existing security devices.
The self-adhesive slot by PORT Connect is one of them as it can be sticked on the product allowing to attach a security cable to it and therefore to protect it against thief.